Intellectual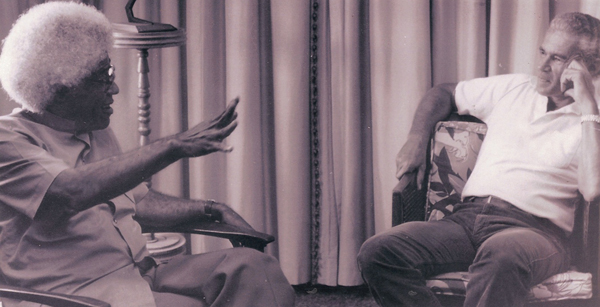 At a very early age, Michael Manley showed signs of that intellectual curiosity that was nurtured in him by his parents. Drumblair was a home where great minds frequently arrived, exchanged thoughts for a while on a wide variety of matters, then departed. It was an intellectual melting pot in which eminent lawyers, doctors, engineers, educators, social workers, politicians, trade unionists, visual and performing artists and others of diverse callings discussed and debated weighty issues that affected not only their own circle but also the entire society and beyond.
Norman Manley had sessions in which he sat with Michael and Douglas reading in silence. He would then discuss with his sons what they had read. His training, experience and talent as a legendary forensic investigator copiously equipped him to probe the inner recesses of his sons' minds and elicit their own thinking, which would then become the subject of discussion. Michael enjoyed this stimulation. When his mother sculpted in her home studio, he would spend time with her discussing the work and gaining valuable insights into the creative process and the relationship between life and art. He also had lengthy conversations with the domestic staff, with whom he had a very cordial relationship. Mrs Maud Boyd, the Drumblair housekeeper for decades, recalled that Michael would not retire to bed at night until he had chatted with his father about the day's events and that exchange could be very late as N.W. Manley's law career took him all over Jamaica.
Leadership talent
With such a background, the boy Michael Manley was off to an excellent start in terms of his intellectual development. He was one of ten foundation students at St Andrew Preparatory School and more than four decades later 30 per cent of those foundation students – Michael and Douglas Manley and Phyllis McPherson (Russell) – were members of Jamaica's Cabinet.
When he was nine years old, the school recognised Michael Manley's talent for leadership as it appointed him its first School Captain.
At Jamaica College (JC), Michael's intellect was stimulated by a brilliant teaching staff, led by the outstanding Headmaster Reginald Murray. JC students in the 1930s were trained to think rather than learn by rote and Michael was one of a cohort of high achievers. His letter to his mother written before his sixteenth birthday is evidence of his level of cerebration at the time. He wrote, inter alia: "I often think of the Jamaicans as a great homogeneous mass of apathy in the centre of which a little nucleus has begun to spin and the more it spins the more matter will come to it and the larger the spinning mass will grow and the whole process will accelerate steadily." Earlier, he had asked his mother to excuse "the low standard sustained throughout this letter".
Professor Harold Laski
Later, at the London School of Economics & Political Science (LSE), he was tutored in Politics and Government by Professor Harold J. Laski, one of the most outstanding political scientists of the 20th century. Michael frequently reminisced about Laski's teaching, which he found exhilarating. Much of his time outside the classroom was spent in the company of a brilliant cohort of students from the English-speaking Caribbean, virtually the last set to receive their tertiary education overseas before the advent of the University College of the West Indies (UCWI). Then he became part of another intellectually inspiring environment, at the External Services of the British Broadcasting Corporation (BBC).

Intellectual discipline
Back home in the early 1950s, he was again among thinkers and creative artists. Intellectual discipline was brought to bear on all his activities, professional and recreational. When he joined the National Workers Union as Sugar Supervisor, he began his work by thoroughly researching the living conditions of the workers and their families. At a time when tribalistic rivalry was a feature of the trade union movement, even his greatest opponents in the rival union were greatly impressed by the intense preparation that preceded his trips to the bargaining table and the way in which he always presented his case in terms of the observance of fundamental principles.
That tendency continued in his leadership of party and nation and his participation in international affairs. The causes to which he was devoted – equality and justice, the deepening of democracy, workers' rights, universal education, self-reliance and others – all linked back to the philosophy that was a product of his intellect. The prestigious Socialist International tacitly acknowledged his extraordinary intellectual capacity when it appointed him Vice-President and Chairman of its Committee on Economic Policy and subsequently Honorary President.
When, in his retirement from public life, Michael Manley stepped up his involvement in horticulture, his colleague Lester Woolery noted the diligence with which he taught himself the subject and the systematic way in which he ensured that he obtained the best equipment, materials and technical know-how, resulting in products that were highly rated in the industry.
On his demitting office in 1992, Michael Manley immediately became a target of talent scouts from academic institutions overseas. In addition to the many honorary doctorates he held, he was now appointed distinguished lecturer, fellow or visiting professor at a number of North American universities. He was also appointed to the Chair of Public Policy by the University of the West Indies (UWI) but never served in that professorship due to failing health. However, the Chair has been endowed as the Michael Manley Chair of Public Policy. The UWI also announced the early establishment of a Michael Manley Centre for Global Dialogue.