Sports Connoisseur
After a dazzling career as a Jamaica College (JC) student in a wide range of sports, the elder (Norman) Manley turned to administration and adjudication, again across a broad spectrum of sports. Among other things, he founded the Jamaica Amateur Athletic Association, the Jamaica Boxing Board of Control, the Amateur Swimming Association of Jamaica and the Jamaica Olympic Association; was a steward of the Jockey Club of Jamaica, President of the Boxing Board, and a judge at athletic meets. The apotheosis of N.W. Manley's deep commitment to sport was perhaps his leading role as Head of Government, against considerable opposition, in the decision to build Jamaica's National Stadium, which was officially opened on August 4, 1962, and was the scene of the country's ceremonial transition into independent nationhood some 30 hours later.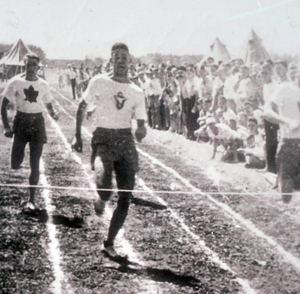 Michael's elder brother, Douglas Manley of Munro College, distinguished himself at the 1941 annual secondary boys schools track and field championships, equalling the then 30-year-old record that his father held over the 100-yard dash and leaving in his wake two legendary schoolboy sprinters, Leroy "Coco" Brown of Wolmer's Boys' School and Herb McKenley of Calabar High School.
Michael was a useful middle-distance runner, but never achieved the heights attained by his father or his brother. However, his schoolmates at JC, including novelist John Hearne and lawyer/politician David Coore, noted that such were Michael's infectious enthusiasm, his loyalty and his motivational talent that invariably he was called upon to captain any team of which he was a member. One of those teams won the boys' swimming championships for JC in 1942.
The Manley family lifestyle was fertile ground for the development of Michael's love affair with sports of every kind. Norman Manley trained boxers and Edna Manley trained horses at Drumblair, NW punishing his pugilistic charges with a stiff left jab or a right hook when they erred in defence. Among their more successful charges were the Manley-owned racehorse Roysterer, which won the Jamaica Derby, and Vivian Dacres, who doubled as the family chauffeur and the middleweight boxing champion of Jamaica under the moniker "St Andrew Pup".
Sport events were occasions for Manley family outings. In a 1974 interview, Edna recalled that whenever the boy Michael got out of hand she would warn him, "If you don't behave yourself, you're not going to boxing tonight; and everything would settle down very nicely, thank you."
Michael had a recall of details of sport events, and especially of records, that bordered on the uncanny. In his discussion of sports, he also showed an understanding of technical issues that sometimes astonished the experts.
His love of sport was fuelled by a deep commitment to youth development. He often took an interest in the progress of young sports persons and motivated them to greater levels of performance. Remarkably, before he became Leader of the Opposition he contacted the young Donald Quarrie, who had started making waves in track athletics as a Camperdown student and told Quarrie to contact him if he ever needed help. Quarrie revealed that thereafter Manley remained in contact, offering encouragement or expressing sympathy and understanding as the situation warranted. Quarrie refers to Manley as "Uncle Mike".
Boxing was a sport very close to the hearts of the Manleys, who rarely missed a bout. For a while Michael and brother Douglas jointly managed the world-ranked Jamaican boxer Percy Hayles.
But Michael Manley's greatest sporting achievement was his authorship of "A History of West Indies Cricket", a very substantial volume that is as much about the sociology of cricket as about the game itself, reminiscent of C.L.R James's "Beyond A Boundary". Before his history book, he had had considerable impact on the game, serving as honest broker in the impasse between the West Indies Cricket Board and the players who accepted contracts from Kerry Packer, the Australian media tycoon, when Packer ran his World Series cricket.
Mr Manley established the Michael Manley Cricket Trust, which awards scholarships to worthy young Jamaican cricketers.